Updated CAMTS standards for nurses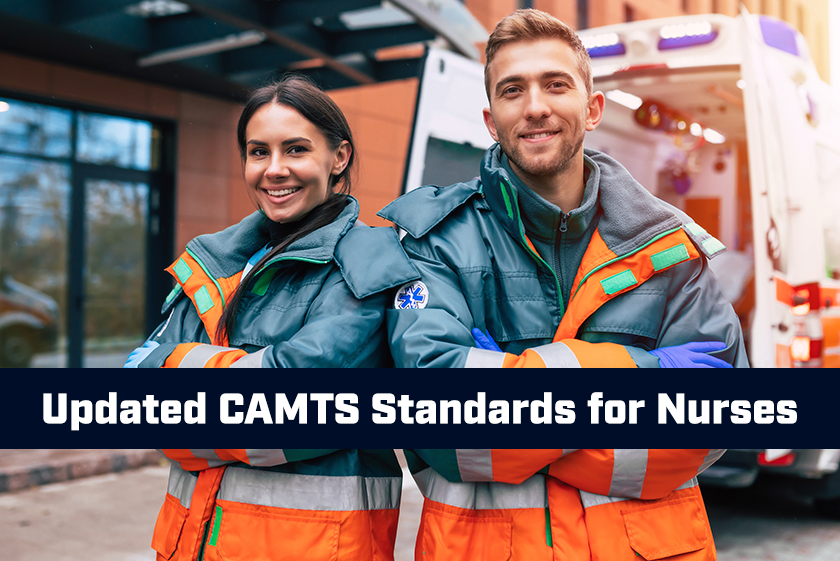 The Commission on Accreditation of Medical Transport Systems (CAMTS) is a non-profit organization that accredits air and ground medical transport programs in the United States and Canada. One of the recent changes to the 12th edition standards specifies that nursing certification will become transport specific (such as the Certified Flight Registered Nurse [CFRN] or Certified Transport Registered Nurse [CTRN]) and will be required of all registered nurses (RN) who have been employed for more than two years. These updates went into effect on January 1, 2023.
CAMTS will continue to accept non-transport specific advanced nursing certification as meeting the standard until January 1, 2025.
This new requirement has caused some confusion among transport programs, as previously, CAMTS required an advanced certification for any RN employed more than two years and this could include the CFRN, CTRN, CEN, CCRN, or RN-C. This is no longer the case. The CFRN and CTRN are certifications offered by the Board of Certification for Emergency Nursing (BCEN) and focus on the knowledge and skills needed for ground and air transport.
Many transport programs have begun scrambling to ensure that all current staff members obtain their CFRN or CTRN within the specified time. This can be a significant cost for the transport program, as well as a time-consuming process. FlightBridgeED is committed to help ensuring that all current and future transport RNs are successful in obtaining and keeping their CFRN or CTRN. We partner every single day with individuals and corporate partners and will continue to do so to ensure a successful transition.
FlightBridgeED is led by experienced flight and transport providers and offers a comprehensive study program for the CFRN and CTRN exam. The program includes an online study course, study guides, and practice tests. These resources are designed to help the student thoroughly prepare for the exam and increase their chances of passing on the first try. Our instructors have real-world experience in the flight and transport environments and can provide valuable insight and guidance to our students. We have a deep understanding of the exam content and understand the importance of the "why" and not just passing the exam. This is the foundation of our course delivery, with a deep focus on delivering content that is innovative, engaging, backed by evidence, and builds each student's ability to critically think.
FlightBridgeED offers a variety of options for student to fit their learning style and schedule. The online study course can be completed at the student's own pace, and on their own schedule. Additionally, we offer live review courses. We are committed to our student's success which is why we were the first company that offered an Exam Pass Commitment, and we continue to stand by this today. We are known for our excellent customer service, which is essential for a successful learning experience. We are available to answer any questions that students might have and provide support throughout the certification process.
It is important to note that the CAMTS requirement for CFRN or CTRN is in place to ensure the highest level of patient care and safety. Flight and transport nursing is a specialized field and having a nurse with the specific knowledge and skills needed can make a significant difference in the outcome of critically ill patients.
[1] 12th Edition Accreditation Standards of the Commission on Accreditation of Medical Transport Systems. https://www.camts.org/wp-content/uploads/2022/10/12th-Edition-Final-with-highlights-for-website.pdf