Standard of Care Podcast
---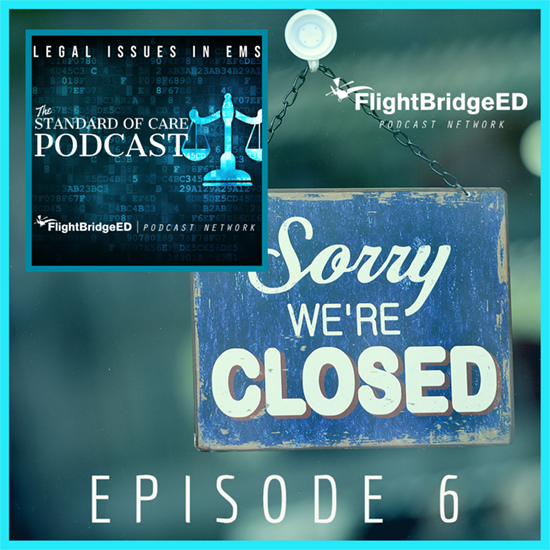 Episode 6: Closed for Business
On this episode of the Standard of Care Podcast, Nick and Samantha try to help EMS providers make sense of one of the most widely known (yet least understood!) laws on the books, the Emergency Medical Treatment and Labor Act (EMTALA). What is the law meant to address? Is EMTALA different for hospital-based and non-hospital-based EMS providers? Can your ambulance be parked at the ER ramp, or your patient turned away? What does the 250-yard rule have to do with care? Has COVID changed the way that EMTALA applies, and can we expect to see these changes continue? Please like, comment, and subscribe!
Show Notes / Links
EMTALA, 42 U.S.C. § 1395dd, available at https://www.law.cornell.edu/uscode/text/42/1395dd
American College of Emergency Physicians, EMTALA Fact Sheet, available at https://www.acep.org/life-as-a-physician/ethics--legal/emtala/emtala-fact-sheet/#:~:text=The%20Emergency%20Medical%20Treatment%20and,has%20remained%20an%20unfunded%20mandate
Bois, D. J., Johnson, S., Keville, T., Lindsay, E., & Swedlow, M. R. (2019). What is ... EMTALA? Chicago, IL: American Bar Association, Health Law Section.
Brown, H. L., DMSc, PA-C, DFAAPA. (2021). Emergency Care EMTALA Alterations During the COVID-19 Pandemic in the United States. Journal of Emergency Nursing, 47(2), 321-325. doi:10.1016/j.jen.2020.11.009
Centers for Medicare and Medicaid Services, Emergency Medical Treatment & Labor Act (EMTALA), available at https://www.cms.gov/Regulations-and-Guidance/Legislation/EMTALA
Centers for Medicare and Medicaid Services, 1135 Waivers at a Glance, available at
https://www.cms.gov/Medicare/Provider-Enrollment-and-Certification/SurveyCertEmergPrep/Downloads/1135-Waivers-At-A-Glance.pdf
Kitch Drutchas Wagner Valitutti & Sherbrook, P.C., EMTALA.com, available at http://www.emtala.com/